By improving your benefits administration effort, it's possible to contribute to employee satisfaction and streamline the workflow while reducing turnover. You can read it all here. Don't have time to read it all at once? Download the entire guide as a PDF directly to your inbox to read later, print or share!
Employee Benefits Administration
This guide covers topics related to employee benefits administration.
The quality of employee benefits program is one of the driving forces behind retention. Over 75% of employees are more likely to stay with the employer because of a good benefits package.
What is employee benefits administration?
Employee benefits administration is the process of designing, managing, and maintaining employee benefits programs. Generally, internal human resources handle administrative tasks related to benefits such as:
Some companies prefer to outsource to benefits administration companies or PEOs (Professional Employer Organizations) PEOs can handle a wide range of administrative duties from renewal negotiations to eliminating premium leakage. Their legal structure also enables companies to access benefits at a lower cost than would otherwise be possible.
Depending on the size of a company, benefits administration can be labor-intensive and time-consuming. Many organizations turn to special software to simplify and control the process.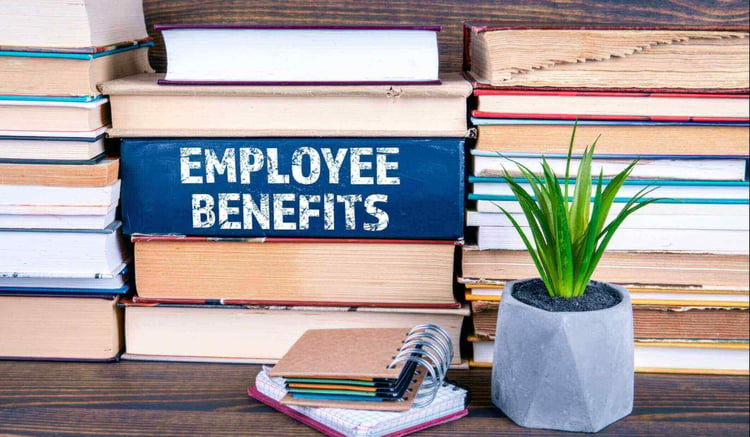 What are the 4 major types of employee benefits?
The four major types of employee benefits are health insurance, life insurance, disability insurance, and retirement benefits.
Health Insurance
The most common of the top four benefits in high demand by employees is medical insurance. Due to the high cost of medical services, high-quality healthcare coverage is an integral part of the benefits package.
According to an SHRM survey, 56% of U.S. adults named health coverage satisfaction a major factor when deciding to stay with their employers. Other studies have shown that health insurance is one of the key employee satisfaction drivers.
Medical coverage plans vary depending on the provider. Large companies tend to sign contracts with major health insurance carriers while small businesses prefer working with brokers.

Vision and dental coverage are typically add-ons to regular health insurance.
Health insurance plans can be challenging to choose and navigate. That's why benefit administration specialists have to go through extensive training to make sure employees have access to the right coverage.
Life Insurance
Life insurance is an optional benefit designed to protect an employee's beneficiaries in the event of their death. Two types of life insurance are:

Coverage for life insurance policies can differ tremendously depending on the provider. It's possible to obtain life insurance for families, high-risk employees, couples, and many other groups. Employers choose whom to offer life insurance benefits, and the amount of coverage often depends on the employee's salary. The most popular type of life insurance is group-term, undoubtedly because it comes with certain tax deduction benefits for the company.
Disability Insurance
According to the Social Security Administration, 1 in 4 of American adults become disabled before they reach retirement age. That's why disability insurance is an important component of the benefits package.
Disability insurance compensates a part of the wages employees lose due to their inability to work when suffering a disabling injury. It generally comes in two types:

The most common coverage periods for disability insurance are 2 years, 5 years, and until the age of 65.
Certain states, such as California, Hawaii, New Jersey, New York, and Rhode Island, have mandatory disability insurance requirements.
Retirement Benefits and 401k Plans
Retirement plans make the benefits package highly appealing to employees. According to Towers Watson, retirement benefits are a powerful attraction and retention factor. Improving the quality of retirement plans reduces employee turnover and increases employee satisfaction rates.
Employers are not required to offer retirement benefits. However, about 77% of employees in private industries participate in employer-provided retirement benefits. 401k plans can offer significant tax advantages for the participants, and possibly company matches. Also, management fees vary widely from plan to plan which allows benefits administrators to develop the most cost-effective, best-managed plans.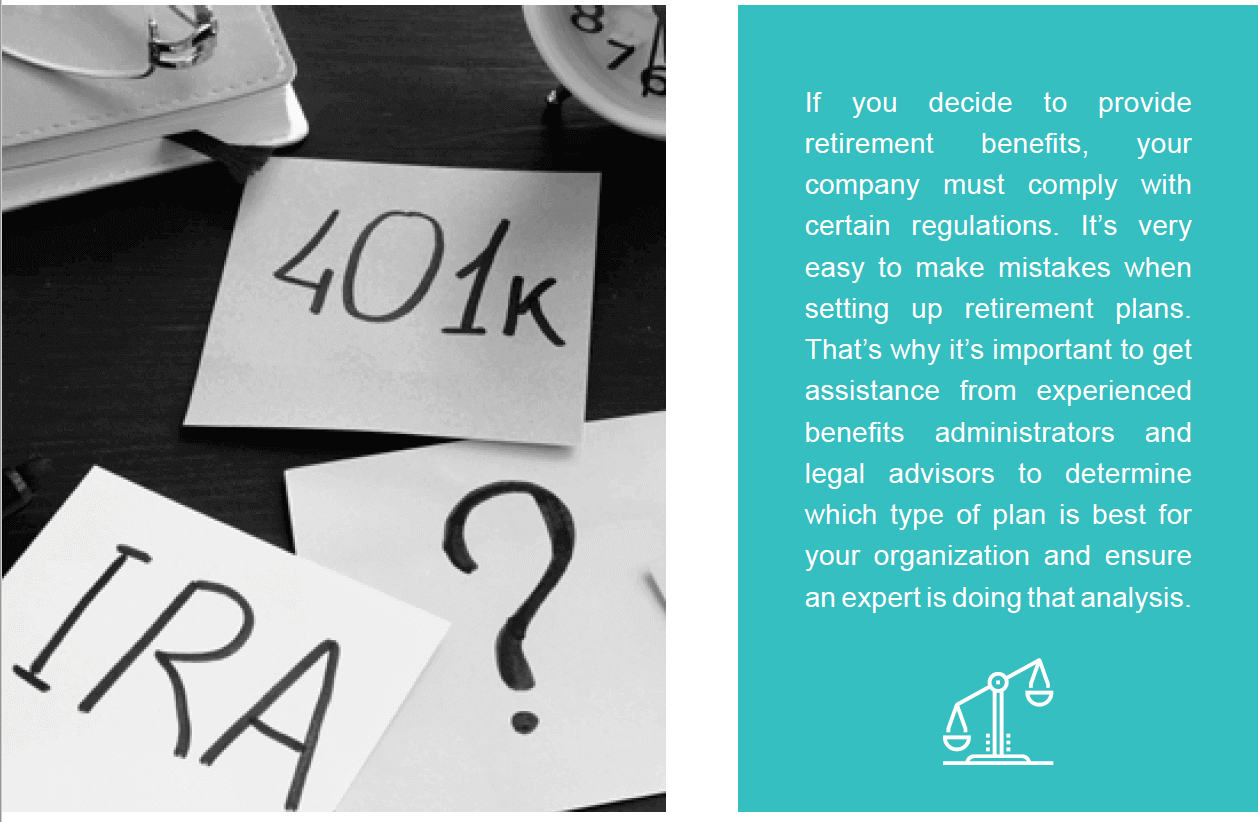 Why is it important to have competitive benefits?
Competitive benefits may be hard to acquire and maintain, but they come with an impressive ROI and contribute to smooth human capital management.
Employee Retention
High employee turnover is one of the biggest problems companies struggle with today. With more than half of employees actively searching for new jobs, employers are facing serious costs.
Studies show that every time an employee leaves, a company has to spend the equivalent of 6 to 9-months of salaries on finding, attracting, and training a new employee.
Since top-notch benefits improve employee satisfaction rates, they contribute to low turnover and cost-cutting.
Employee Recruiting
The majority of job seekers consider benefits first when researching job ads. By offering competitive benefits, your company gets a shot at hiring top candidates.
If you are offering opportunities similar to your competition, the benefits package can be a deciding factor. Even if your competitors are paying higher salaries, better benefits can help attract top talent.
Many employees put high-quality health insurance and convenient retirement plans above sizable salaries.
Additionally, top-notch benefits can minimize distractions and improve performance. They contribute to the lower levels of stress in the workplace and enhance the company culture.
What is the role of an employee benefits administrator?
An employee benefits administrator is a specialist who focuses on tasks related to determining and managing benefits programs for an organization.
Benefits administrators are experts at negotiating rates and fees, as well as structuring benefit plans that are comprehensive, cost-effective, and legally compliant.
This expert identifies which benefits employees qualify for, finds the most suitable provider or insurance company, ensures proper benefits enrollment, manages existing benefits, and more.
The employee benefits administrator is responsible for: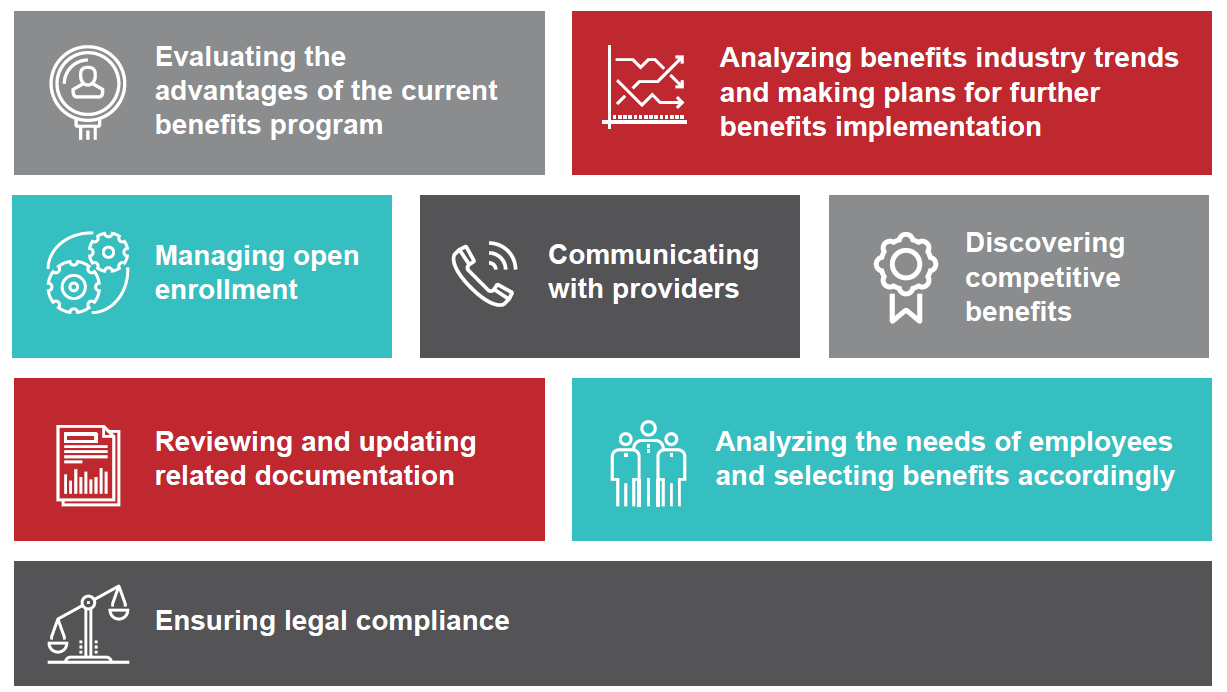 Besides managing benefits, an administrator is responsible for the analysis of the program. Since the company's agenda, budget, and workforce change regularly, so should the benefits administration process.
An administrator needs to have extensive experience in benefit selection, implementation, analysis, and legal compliance.
A mistake made in benefits package management could turn into a costly problem for a company. For example, if an administrator fails to enroll an employee in a healthcare program, all medical expenses incurred due to a hospitalization become the company's responsibility.
A smart approach to benefits administration can help an organization retain employees, cut costs, and improve brand image.
How do you administer employee benefits?
You have two options to administer employee benefits in your company.
In-house Administration
Your human resource department can be responsible for employee benefits administration. The advantages of such a choice are full control of the process and the ability to keep everything "in the family."
Some companies believe that by choosing this option they may cut costs. In reality, the in-house benefits administration requires substantial investments.
To achieve the best results with in-house administration, you would need to hire a benefits administrator. Otherwise, the pressure on your HR team can be tremendous. For larger companies, you would need to hire several specialists to get the job done.
Additionally, you would need to purchase special software and get legal advice to ensure proper compliance.
Outsourced Administration
Outsourcing benefits administration to another company could be a smart solution for organizations of all sizes. The major advantage of outsourcing is the ability to acquire better benefits.
If you work with a PEO, your company, regardless of its size, can enjoy the same quality of benefits as large enterprises. The reason for this comes down to the scale at which PEOs purchase medical coverage. Their strong connections in the industry allow organizations to acquire competitive rates.
By outsourcing benefits administration, you can save a substantial amount on hiring and training benefits administrators for your company while taking the pressure off your HR experts.
What is benefits administration software?
Benefits administration software assists companies with planning, managing and administering employee benefits.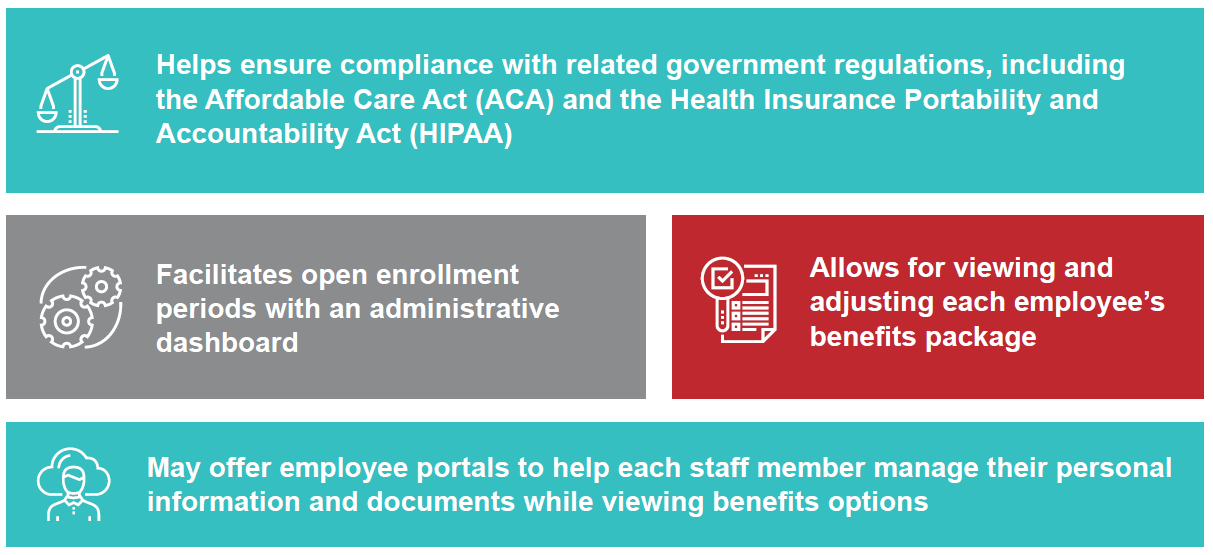 This type of software can be either a separate solution or a part of your HR management suite. These apps can generally be integrated with other HR management systems. Some programs have a SaaS (Software as a Service) format to give both employers and employees remote access.
The top reasons why companies take advantage of business administration software are:
Enhanced efficiency and flexibility — manual benefits management can be time-consuming and prone to errors
Improved engagement — a centralized benefits platform improves employee and employer involvement in the benefits administration process while simplifying communications
Security— High-quality software contributes to security risk mitigation for sensitive personal data
Why use benefits administration companies?
In-house benefits administration is time-consuming, costly, complex, and often frustrating for both HR specialists and employees. Generally, companies prefer not to hire additional benefits administrators in order to cut costs. This leads to a heavy workload for HR experts and increases the chances of errors.
By using a benefits administration company, you can delegate the liabilities that come with the process. Collaboration with the right company allows you to offer employees higher-quality benefits packages. Since the quality of the benefits offering is directly related to your retention efforts, such an advantage can help you gain a competitive edge for employee selection.
The benefits administration scene is changing regularly. Staying up to date with all the legal requirements and new options can be tough for your HR department.
Benefits administrators manage the behind the scenes negotiations that are necessary when first offering benefits and at the time of renewal each year, an important HR function that should be handled by benefits experts.
By outsourcing benefits administration, you are handing the task over to experts who monitor the industry, analyze offers, study the competition, and accommodate your business needs.
Outsourcing can also help you: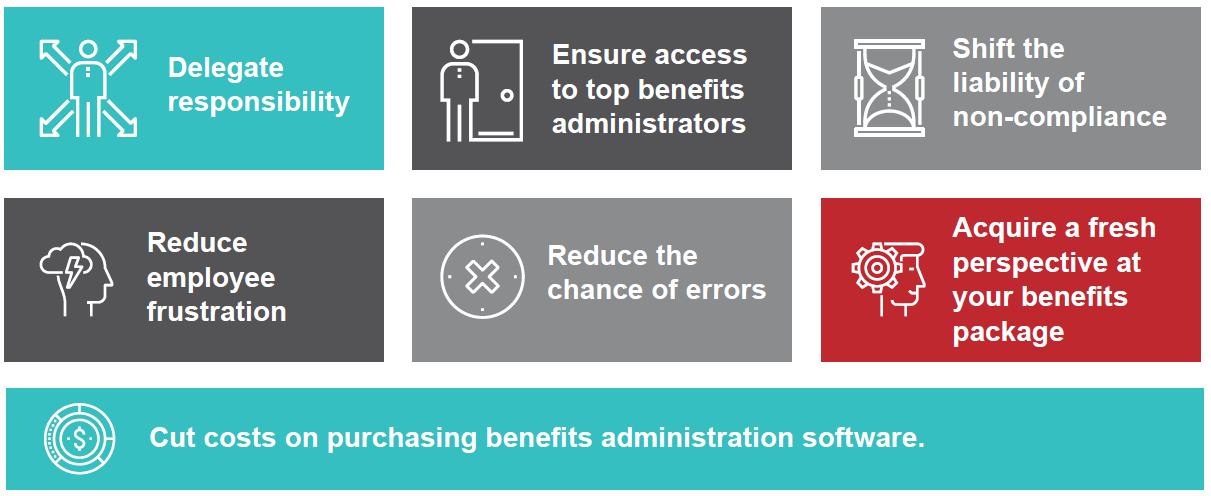 For more information about outsourcing your employee benefits administration, please contact us today.
Transparency in Coverage
The PRemployer health plan provides access to machine readable files as required by the Transparency in Coverage Rule. The files include in-network negotiated service rates and out-of-network allowed amounts. The files are formatted to allow researchers, regulators, and application developers to access and analyze healthcare pricing data more easily. Contact, Payton Ware, HR and Benefits Administrator, by calling 800.781.3060 Option 4 if you experience issues accessing the link below.
Information provided by Blue Cross Blue Shield of Alabama – includes health and prescription drug information